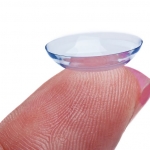 There is no doubt that daily disposable contact lenses are the safest and most comfortable modality of contact lens wear. It certainly makes sense that a brand new lens every day will improve overall comfort, since there is a limited opportunity for both deposits to form on the lens surface and environmental allergens to soak into the lens matrix. The latter is very helpful for chronic allergy sufferers. Dailies are also good options for the younger first-time wearers – since hygiene can often be an issue – and part-time/special occasion contact lens wearers. Many of our patients that have had overall comfort issues (particularly dryness) in the 2-week or monthly disposable options have done much better with this modality. Daily disposable lenses are now available in spherical, toric (for astigmatism), and multifocal designs.
The increased cost of daily disposables is offset by the lack of need for cleaning and disinfecting solutions. Generally the investment is between fifty cents and a dollar a day. Solution cost savings comes to about $15 a month, or $180 annually.
If you boil it down to the safest and healthiest contact lenses for the eyes, daily disposable contact lens wear is the hands-down winner.