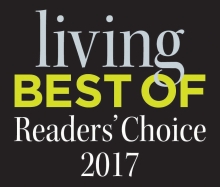 For the second time, we are honored to have been voted the 2017 Best Optometrist in Arlington/Mansfield by the readers of Living Magazine.
We intend to continue daily striving to be a practice of professionalism and friendliness, where patients can come and receive the ultimate in vision care in a relaxed environment.
As we have stated many times, we take very seriously the fact that patients trust us with the care of their most precious sense – the gift of sight.