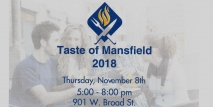 One of our favorite local organizations is the Linda Nix Caring Place on West Broad Street in Mansfield. The Caring Place offers free medical, dental, and vision services to those in our community who could not afford it otherwise. Mansfield Vision Center supports this effort by providing examinations and eyewear.
On November 8 of this year, the Caring Place will be hosting the Taste of Mansfield. Many of Mansfield's best restaurants will have samples of their fare available, and all proceeds raised will benefit the Caring Place. Tickets are $35 per person and availability will be limited. The fun begins at 5:00 PM, and we encourage anyone interested to join us!
For more information, visit www.tasteofmansfieldtx.com, and you can register and purchase tickets at www.eventbrite.com.