At Mansfield Vision Center, we are always happy to see walk-in patients. However, we hate to live up to that "doctor's office" reputation of wait… wait… WAIT. That's why we recommend setting an appointment – so you can get in and out in as little time as possible, and get back to your busy life.
Call us at 817-453-4682 and set a time that is convenient for you.
If you have never had an eye examination, or it's been a long time, we want to ease your apprehension a bit. An eye examination is not anything you'll have to study for or be graded on! The process is stream-lined, straight-forward, and pain-free.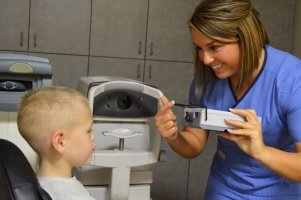 For pretesting, we have a state-of-the-art computerized autorefractor that gives the doctors an estimate of your prescription; this is the "starting point" for the exam. A non-contact tonometer is used to check the intraocular pressure (for glaucoma screening).
 Your old prescription (if you have one) will be read, so that we know what you are accustomed to wearing. We take a digital picture of the retina on every patient. This is a good way to document retinal health as time progresses, particularly for patients at higher risk for retinal disease (like those with high blood pressure or diabetes). The doctors always document in the patient chart what they observe when they look in a patient's eyes – but a picture is worth a thousand words!
3. The next step is the Examination itself. The optometrist will discuss the problems you may be experiencing, your occupational requirements and hobbies, and visual goals. Then we refine the computer-generated measurements to create a clear, balanced prescription for all your visual needs. After the prescription is reached, we will make a thorough and detailed assessment of the external and internal health of your eyes.
4. Finally, the doctor discusses the findings of your examination with you, makes sure all your questions are answered, and recommends the steps needed to be taken to correct and preserve your vision. Then it's time to try on glasses or contact lenses!
If there is one thing wrong with the eye's design, it is the lack of a significant number of internal pain receptors. You may have heard before that the medical community regards pain as nature's way of warning something is wrong.
Most eye diseases are painless – glaucoma is a perfect example. You could be slowly losing vision and not even know it. As a rule, the vast majority of ocular diseases are quite advanced once the patient is noticing symptoms (like a loss of peripheral vision). That's why maintaining a schedule of annual eye examinations is so important. The sooner a problem is identified, the sooner we can intervene, and the less damage that's done!
Mansfield Vision Center recommends an annual eye examination, even if your vision is perfect. It may very well stay perfect, as long as the eyes stay healthy.