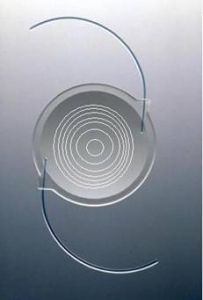 The Tecnis® lens uses a diffractive lens design to bend light from different distances, dependent upon the various zones in the implant.
It was approved by the FDA in January 2009.
Clinical trials with this implant demonstrated corrected distance vision of 20/25 or better and corrected near vision of 20/30 or better for 93% of patients. Almost 90% of patients report "never" having to use glasses after Tecnis® implantation.
This design is still used occasionally, but generally has been replaced by the PanOptix implant.