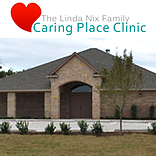 The Linda Nix Family Caring Place Clinic opened in 2003. Operating under the leadership of Mansfield Cares, the clinic provides free medical, dental, and eye care services to members of the community in need. Doctor Cooke and Mansfield Vision Center are proud to be a part of the eye services provided.
On November 21 of this year, the clinic plans an event entitled Healthy People – Healthy Community, from 3:00 – 7:00 PM. There will be vendors, bounce houses, music, a tour of the clinic, and an opportunity to support the clinic financially with a tax-deductible donation.
Everyone is invited to come and learn more about this wonderful community endeavor. I hope to see you
Share This Story, Choose Your Platform!
About the Author: Dr. Kyle Cooke